Volunteer at the Hahn Horticulture Garden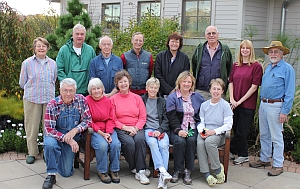 Our Garden is what it is today thanks to countless hours of work by our Volunteers. We are always looking for more volunteers, please contact us via email if you would like to help out! vtgarden@vt.edu
Work in the Garden
Volunteers play an important role in keeping the Garden beautiful! We meet throughout the spring, summer, and fall, weather permitting. All skill levels are welcome - it's a great way to learn and socialize as you work alongside experienced gardeners and enthusiastic newcomers. Call (540) 231-5970 to be added to our volunteer notice list. Bring your own gloves and preferred tools, however we can provide gloves and tools if you do not have any.
Monday Nights
The main volunteer night is Monday night during Daylight Savings time. Meet in front of the Pavilion building at 5:30pm and one of our Horticulturists will show you what tasks need to be accomplished.
Thursday Mornings
If daytime works better for your schedule, please consider Thursday mornings at 10:00am. Please note that the size of this group is usually very small. Meet in front of the Pavilion building and one of our Horticulturists will show you what tasks need to be accomplished.
Other Volunteer Opportunities
Volunteer Coordinator – Help Garden Staff recruit and coordinate volunteers to work at the Garden. We are looking for an outgoing individual with good connections throughout the NRV to help grow our volunteer base.
Education Committee Member – Interested in helping to expand and improve our educational offerings? This committee will focus on identifying and coordinating guest speakers, classes, and symposiums.
Tour Guide – Are you comfortable talking in front of a small group of people? Consider volunteering to lead tours of the Garden as requested by Garden Clubs and local schools. HHG staff will "coach" tour leaders and make sure they are familiar with the garden's history and spaces.
Event Host – Once our rental program is up and running again, we will need people to serve as an on-site Garden representative during weddings and other events. Hosts will be in the office to answer questions and unlock/lock the building. Bring a book or craft project, this involves a lot of "sitting-around" just in case something comes up during an event.
Fundraising – The COVID-19 outbreak put a bright spot light on the vulnerability of our main funding sources, which are rentals and fundraising events that feature large groups of people. We have to raise money to pay for plants, materials, tools, vehicles, office supplies and our awesome student workers. Fundraisers will work with the Garden Director to identify and pursue new funding opportunities including donors, grants, and creating fundraising events.