May 11 until TBD
Charlie Brouwer

About the artist
Charlie Brouwer and Glenda (his wife since 1966) live in the Blue Ridge Mountains in Floyd County, Virginia. Nine acres of open fields and woods, with 20 outdoor sculptures placed along a 1/2 mile walking trail, surround the house and studio. Charlie calls their place "Out There" because of its remote location at the end of a gravel road, but also because he believes that art can point us towards thoughts, feelings, and meanings beyond our immediate experience.
He received a BA in English from Grand Valley State University in Michigan, studied art at Portland (OR) State University, and received an MA in Painting, and an MFA in Sculpture from Western Michigan University in Kalamazoo, MI. He taught high school art for 2 years in Australia and 11 years in Michigan, and he was a professor of art at Radford University for 21 years. Since 1975, his work has been shown regionally, nationally, and internationally in over 250 exhibitions. Since 2008 he has worked full-time making indoor and outdoor sculptures, drawings, installations and public art projects, and he has exhibited collaboratively with his daughter, Jennifer Hand.
In recent years he has been broadening the reach of contemporary art into communities through "social sculpture". These large-scale projects involve him borrowing 100's of ladders from all across a community. He create temporary installations with them that become metaphors for the aspirations of the whole community being dependent on individual hopes and dreams supporting each other – rising up together.
Please visit his website for more information: charliebrouwer.com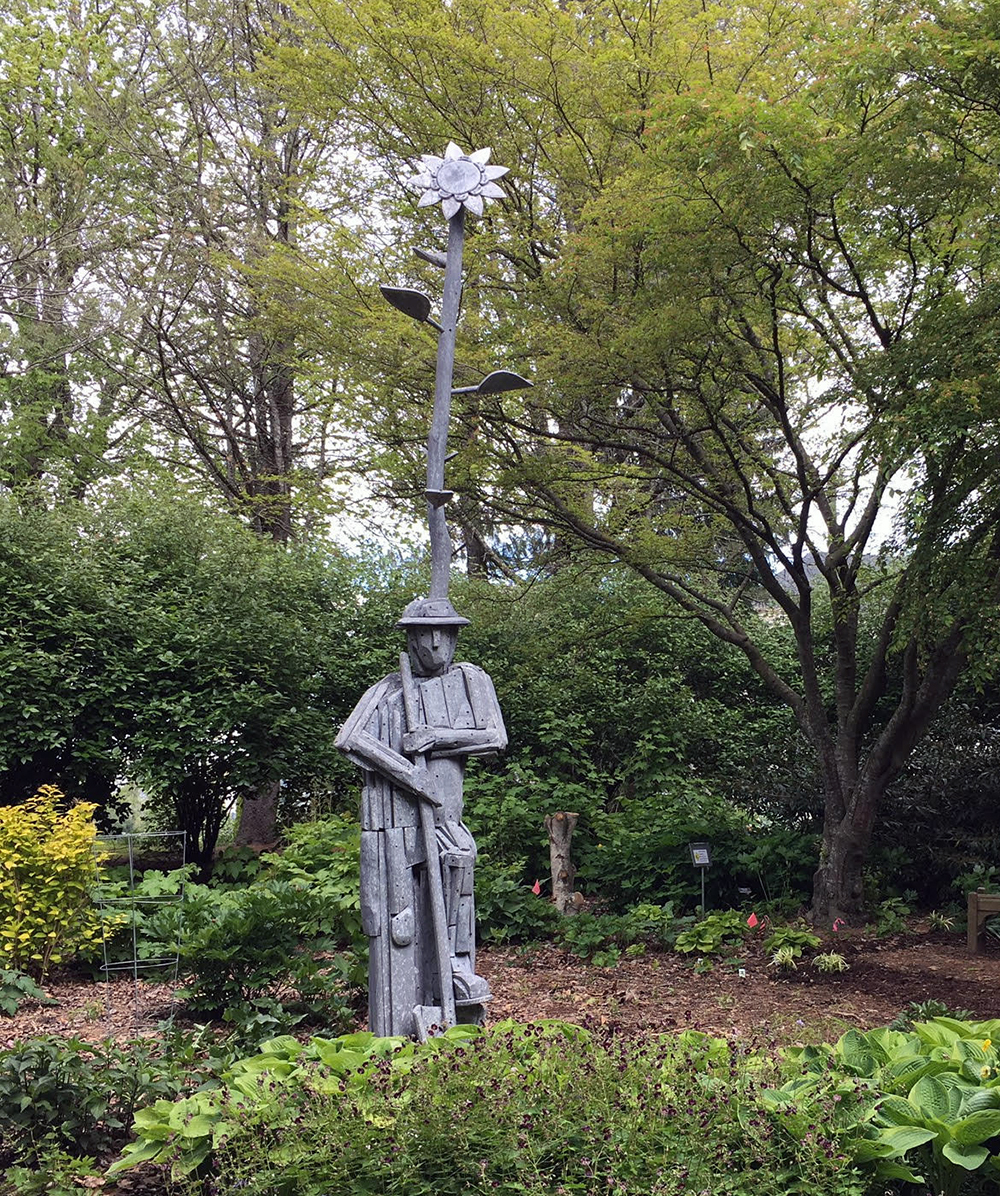 The Gardener
Materials: Black locust wood, deck screws, preservative stain
This sculpture was started with just the flower and I exhibited it in the Hahn Garden in 2018. After taking it back to my studio, I decided it needed more of a story so I added the gardener leaning against it. Although he planted it – he has no idea how and why it flourished and grew so well. He's resting for the moment, but plans to use his shovel to start something else soon.
I think he's a lot like all of us – mystified by life, appreciative of its beauty, and for something to do.
The Gardener was in a public art exhibition in Kingsport, TN last year and he was scheduled to be in Cornelius, NC this year, but they canceled their exhibition due to the coronavirus – so here he is social distancing and helping out at the Hahn Horticulture Garden.
This display is supported by the Blacksburg Regional Art Association.