Gardens within the Hahn Horticulture Garden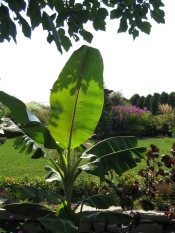 The Hahn Horticulture Garden is the sum of several smaller gardens and features, spread over nearly six acres. Most of the hardscape features, such as pergolas, arbors, decks, walls, and bridges, have been constructed by Robert McDuffie's Landscape Construction classes. Students, volunteers, and garden faculty and staff have created and planted the display beds. Scroll down for a sampling of our main features - many more await discovery on your next visit!
The garden features hundreds of species of woody and herbaceous plants from around the world, showcased in various features: a multi-acre shade garden, "hot" perennial border, spectrum mixed border, xeriphytic garden, two water features including the Jane Andrews Memorial Stream Garden, Pavilion tent lawn and folly, meadow garden, and the Peggy Lee Hahn Garden Pavilion (special event facility and staff offices).